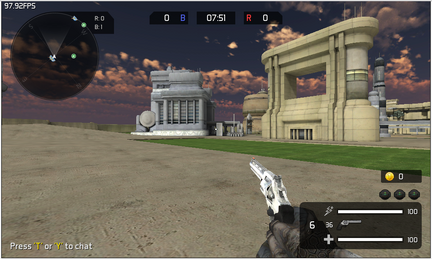 The Revolver is a powerful secondary gun that has a high rate of fire and high damage. It is essentially an upgrade to the USP, but with less bullets per magazine. The revolver can take down almost anyone with very few shots, and is often the first weapon bought in the game for beginners. It has six rounds and has a standard zoom. The fire rate is how fast you can click your mouse. This secondary is by far the most common in the game that is store bought.
This weapon is classified as secondary, and was introduced with the 2.0.6
Attribute
Value
Cost

9500

XP

Fire rate
1.35/sec
Recoil
135%
Bullet spread
None
Player speed multiplier
110%
Aiming field of view
50°
Invisible to radar
Yes
| Area | Value |
| --- | --- |
| Head | 59 |
| Torso | 34 |
| Limbs | 29 |
Ad blocker interference detected!
Wikia is a free-to-use site that makes money from advertising. We have a modified experience for viewers using ad blockers

Wikia is not accessible if you've made further modifications. Remove the custom ad blocker rule(s) and the page will load as expected.