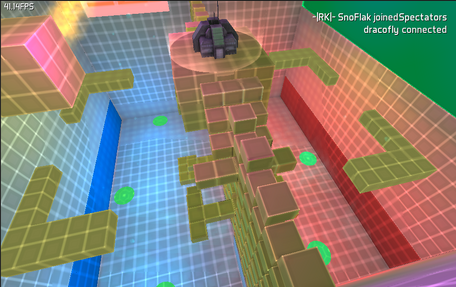 Death Arena Games
Edit
Death Arena was Created by Alpha117, also known as ashgulch on the forums. This custom map supports a color coded team base structure, with wonky grid textures supporting the main Retro look of the map. There is one moving Platform at the top of the map that outlines the entire room, and a checkered system of a cube wall in the middle to shoot through to stop enemies from coming over to your side.
Most effective weapon to use in the map would be the Plasma gun, or the Carbine, RPG, and the Blast Gun. The reason for this, is the Damage factor. The map is small, and not hard to pick off a couple of kills if you are at a height.
Ad blocker interference detected!
Wikia is a free-to-use site that makes money from advertising. We have a modified experience for viewers using ad blockers

Wikia is not accessible if you've made further modifications. Remove the custom ad blocker rule(s) and the page will load as expected.